The intuitive user interface
The program window is arranged like a browser:
In the left part, there is the Series Window which shows all examinations in an overview. The Color Defect Map allows you to recognize most of the defects and the rough course.
The Series Window is used for selection: A double click on a single examination opens the Single Window on the right side with all details.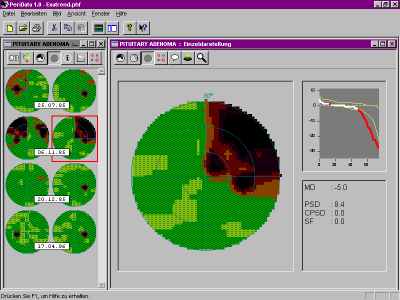 Display options
Using the buttons at the top of each window, you can change between different types of displays. There are numerous options:
Threshold values
Grayscale display
Probability maps
Defect depth
Color defefect map
Cumulative defect curve
Global indices
3-D hill-of vision ...and many more
Combinations
Instead of the Single Window you can also call the Left-Right-Window.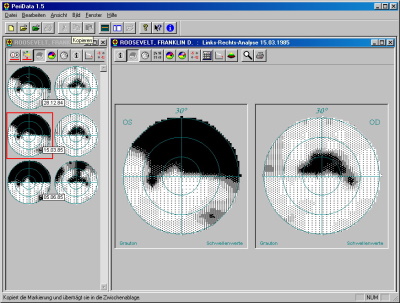 Follow-up
The visual field development is shown in the Trend Window. The "box plot" is one of many representations and shows the general course. If a learning effect can be suspected, PeriData shows automatically a yellow box (see example).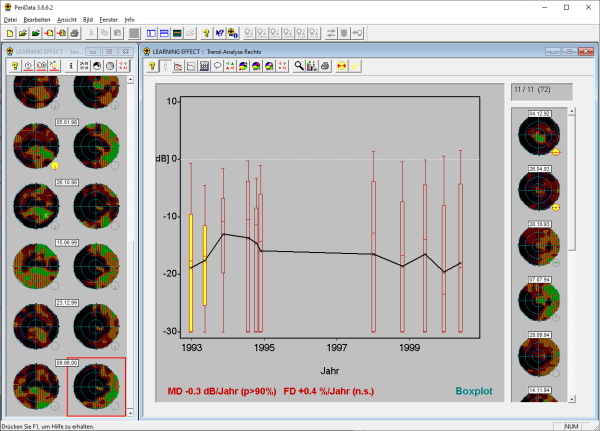 Pointwise Progression
A very helpful representation in the Trend Window is "Supertrend". It is a combination of a Color Defect Map and the display of the decibel change and the mathematically significant trend points (red and green triangles). A progression is easily recognizable.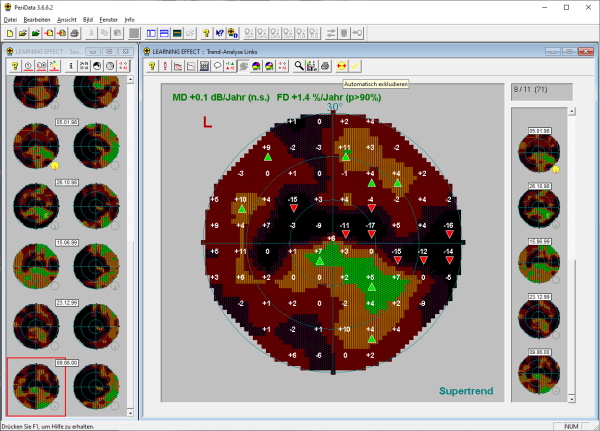 Intellitext
There is also the Intellitext report explaining the result of the mathematical analysis in an easy-to-read text.